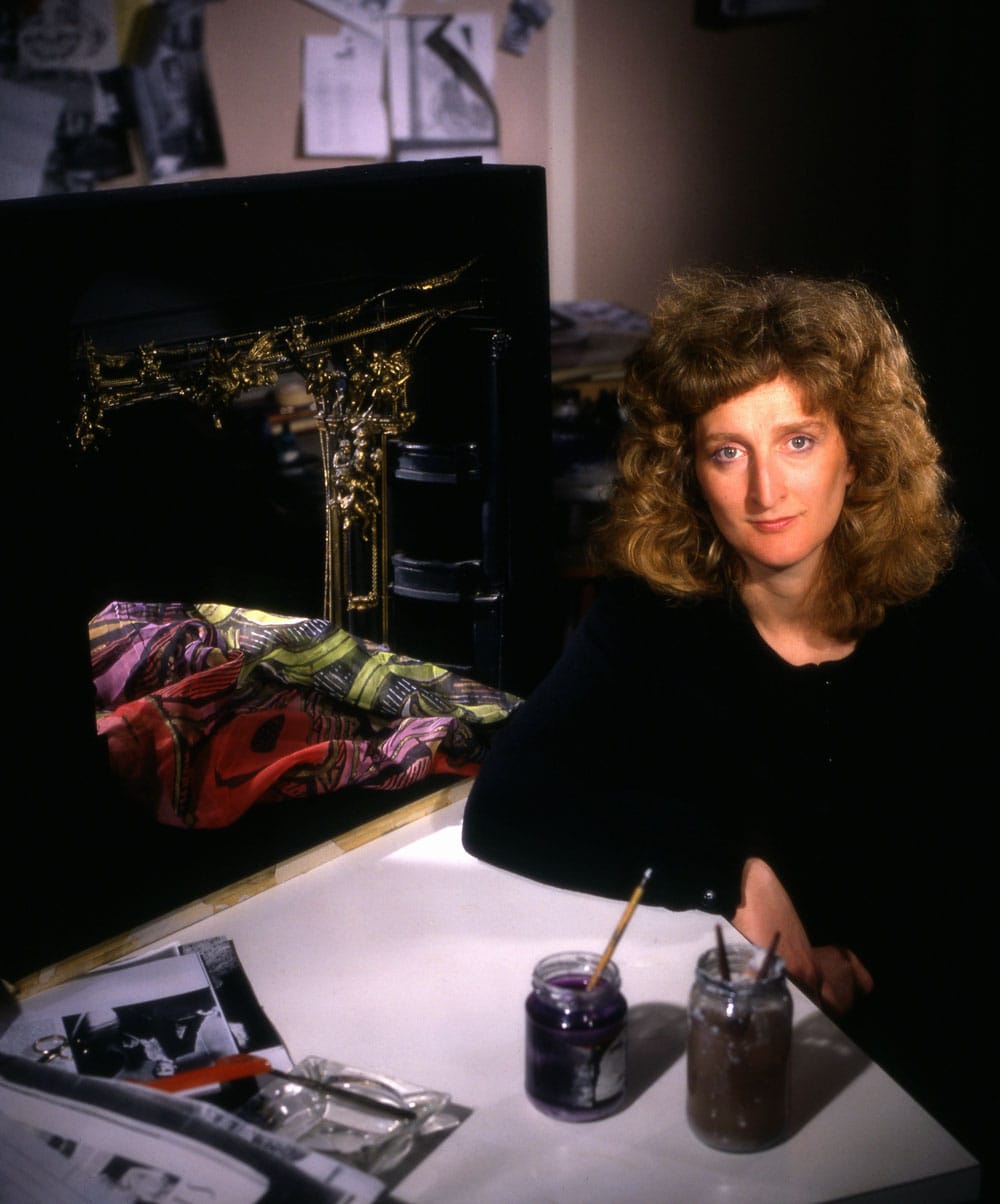 Photograph: Clive Barda / ArenaPAL
She worked for the Royal Shakespeare Company, the National Theatre, the Royal Opera, the Royal Ballet, Glyndebourne Opera, English National Opera, Welsh National Opera, Scottish Opera, Sydney Opera, La Scala, in the West End, on Broadway, and at the Almeida Theatre.
Her best known – and still much admired – design was for Phantom of the Opera

, for which she received two Tony Awards, two Outer Critics' Circle Awards and two Drama Critics' Awards, all for Best Costume and Set.
In 1979 and 1988 she was part of the British Theatre Design Team awarded The Golden Troika Prazké Quadriennale. In 1983 she was awarded the Silver Medal for the Janacek Competition Prazké Quadriennale. In 1990 she was awarded the Observer's Experts' Expert, The Designers' Designer, in recognition of her contribution to theatre design. In 1999 she was awarded the 19th Franco Abbiato Prize. In 2006, the refurbished Young Vic theatre opened a new studio theatre named the "Maria" in her honour.
The Maria Bjornson Fund will support artistic enterprises, arts-related activities and individual artists.
Applications for support should be made to:
THE MARIA BJORNSON MEMORIAL FUND
Charles Russell Speechlys LLP
5 Fleet Place
LONDON
EC4M 7RD
Trustees.
The trustees of the Fund are:
Bob Crowley
Bob is a theatre designer and director. His designs for the National Theatre include The History Boys and Carousel (Tony Awards); for the Royal Shakespeare Company over twenty-five productions including Les Liaisons Dangereuses; for Broadway Disney's Aladdin, Aida (Tony Award), Tarzan, Mary Poppins (Tony Award), The Year of Magical Thinking, Coast of Utopia (Tony Award) and Once (Tony Award). Other designs include My Name is Lucy Barton, The Inheritance, An American in Paris (Broadway/London/Paris/Tony Award/Olivier Award), The Audience (West End/Broadway), and Skylight (West End/Broadway).
He received The Royal Designer for Industry Award and the Robert L.B. Tobin Award for Lifetime Achievement in Theatrical Design.
---
Sir Richard Eyre
Richard has worked in theatre, film and opera for 50 years. He was producer of BBC TV's Play for Today from 1978-81 and was director of the National Theatre in 1988 to 1997. He has directed operas at the Royal Opera House and at the Metropolitan Opera, written five books and directed several feature films.
---
Sir Roger Gifford
Roger was born in St Andrews Scotland and educated at Sedbergh and Oxford. He is an Alderman of the City of London and served as Lord Mayor in 2013, having spent his career with the Nordic bank SEB, where he continues. He lived in Japan in the 90's and is Vice-Chairman of the Association of Foreign Banks.
He is an enthusiastic amateur musician and trustee of several arts charities including the Barbican Centre, Tenebrae, English Chamber Orchestra and the City Music Foundation.
Roger is married to Clare and between them they have six children.
---
Simon Weil
Simon is a partner at the law firm Charles Russell Speechlys LLP where he specialises in charities, philanthropy, tax-planning, investment property for charities and the resolution of potentially contentious issues arising out of Wills, trusts and co-ownership of property for charities and private clients.
Simon has been a trustee of and legal advisor to the Maria Bjornson Memorial Fund since its creation in 2008. He is also Chair of The Handel House Trust and a trustee of numerous charities including The New English Ballet Theatre, The English Concert and The Michael Tippett Musical Foundation.
His hobbies and interests include history, opera, riding, tennis, travel, biographies, classic fiction and cooking.